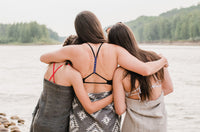 We want you in our tribe!
Our premium cotton Turkish towels are hand made on Peshtemal looms in Turkey. We love everything about our ultra-soft Turkish towels and blankets. From function to fashion these lightweight, quick drying, versatile pieces that fit everywhere in your life will keep you coming back for more. Join our tribe and get one for yourself!
Shop Now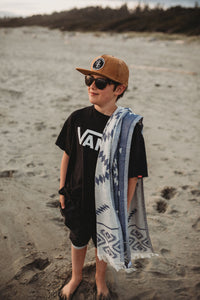 At the beach...
Meet your new favorite beach towel.  Not only is this towel something you can pair with your look and style, but it is the best beach towel you will ever own! The best thing about our premium cotton Turkish towels is that because of the tight weave sand is easily shook out of your towel after a day at the beach. No more taking the beach home with you.  Quick drying, easy to pack up small and antibaterial. A perfect beach accessory.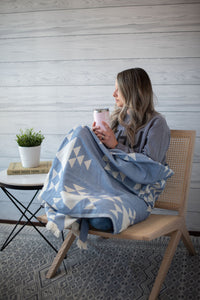 In your home...
Premium cotton Turkish towels & blankets are a real must in your home.  Use as a blanket, (we actually have blanket size now too!), couch throw, or switch over your bathroom towels.  These towels are antibacterial so do not hold odour like a traditional terry cloth towel and seriously just get better with age. Soft, high quality cotton and weave, high absorbency and quick drying make these towels and blankets a new home staple.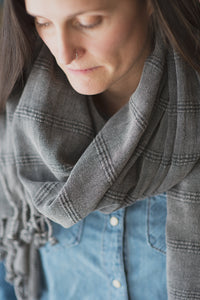 Fashion accessory...
Wear your Turkish towel as a scarf, shawl, wrap, sarong or beach skirt for an easy to carry on the go fashion accessory.  This super lightweight accessory is easy to bring along for an occasion whether you want to bring a splash of colour to your wardrobe, or just have something warm to wrap up in when on the go, our premium cotton Turkish towels have you covered.
See What our Customers Have to Say!
I love my frickin towel, I have 3 of them in my car that I take everywhere. the BEST and most versatile towel EVERRR!!

Soli Ruiz-White
My staff and I love to share our Turkish towel obsession with our customers (we all own multiple towels), and with their versatility, range of colours and styles and general awesomeness they are a go-to gift for friends, family, moms-to-be, and anyone who might get cold, damp, or naked!

Ellen- Owner of Wildwood Flower Emporium
These towels are amazing and have travelled the world with me! I never leave home without one. Quick to dry, cute to wear and easy to pack, you will find a million ways to use it!

Lila Karmali
Love these towels and use them for every season. Best part is they become softer with every wash!

Hayley Harkness
Honestly the towels are a life saver! I know it's crazy but I have even bought some for my pets. They are all over the house and car!

Falyn Blair